I started my journey 2 years ago with a simple goal of improving my financial lifestyle and the aim of retiring by the age of 50. I can't say the journey was easy as I had to make many lifestyle changes and be wiser about how I spend my money.
In some cases, it can be as simple as choosing to leave home 15 minutes earlier to take the train instead of hopping on a taxi in a mad rush to work. Others, it's a matter of convincing my friends to have dinner in a food court before a movie instead of a fancy restaurant.
Fast forward to 2017, I'm proud to share that I managed to turn a negative net worth of -$109,258.09 in 2014 to a positive net worth of $12,681.38 in 2016. Woohoo!

To be honest, it doesn't take rocket science to reach where I am today. What it does require, is hard work, patience and faith that the future you will thank you for what you are doing today.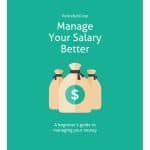 If you are interested to start your retirement planning journey today, I've created a simple 3-step checklist that you can use to change the way you are managing your money today.