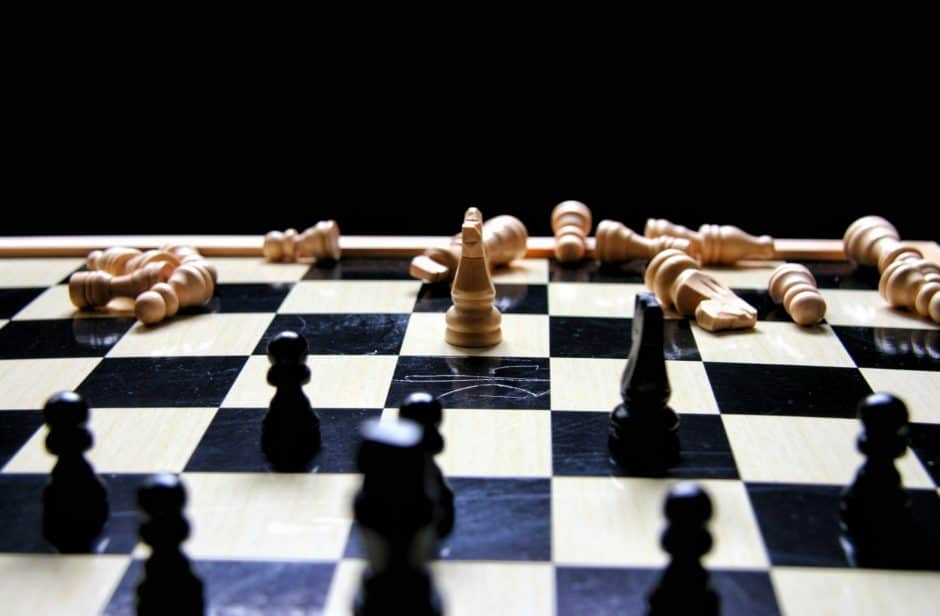 Saving money can sometimes be tough.
I mean, it often means doing something less convenient. Like cooking a meal at home instead of eating out, or waking up earlier taking the train instead of rushing out of your home and taking a taxi.
To make money saving activities more interesting, I decided to add a gamification component to reward myself. Because we all love to play games, don't we?
Gamification is the application of typical elements of game playing (e.g. point scoring, competition with others, rules of play) to other areas of activity, typically as an online marketing technique to encourage engagement with a product or service.
Gamification is not a new thing
The most popular case study that has been used to explain gamification is Dropbox's rise to fame where they used gamification techniques to encourage its users to learn more about their product, use it and share with their friends. Dropbox currently has 500 million users around the world and a value of around $5-6 billion.
So how do we implement gamification with money saving activities?
If we break down gamification in its simplest form, there are only 2 components to this. Creating money saving challenges for yourself (and your family), and rewards for completing the challenges.
Simple enough? Let's do this!
Creating challenges to save money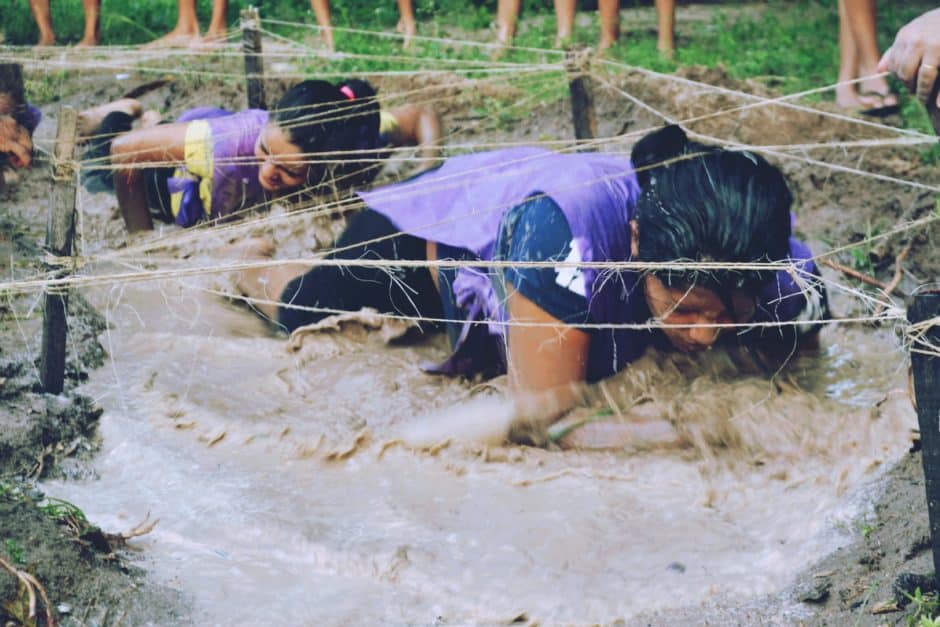 Let's use public transport as a case study.
I pay a train fare of $1.16 to travel from my home to my workplace and incur the same cost going home after work. I give myself a money saving challenge to cycle to work instead of taking public transport. This could be challenging for some so you could also consider taking the train instead of taxi as a win too.
By cycling to work, I save some money in my transportation and food budget (because I would stop for a beer or snack along the way home occasionally).
Now that we have a challenge, let's talk about rewards.
Give yourself appropriate rewards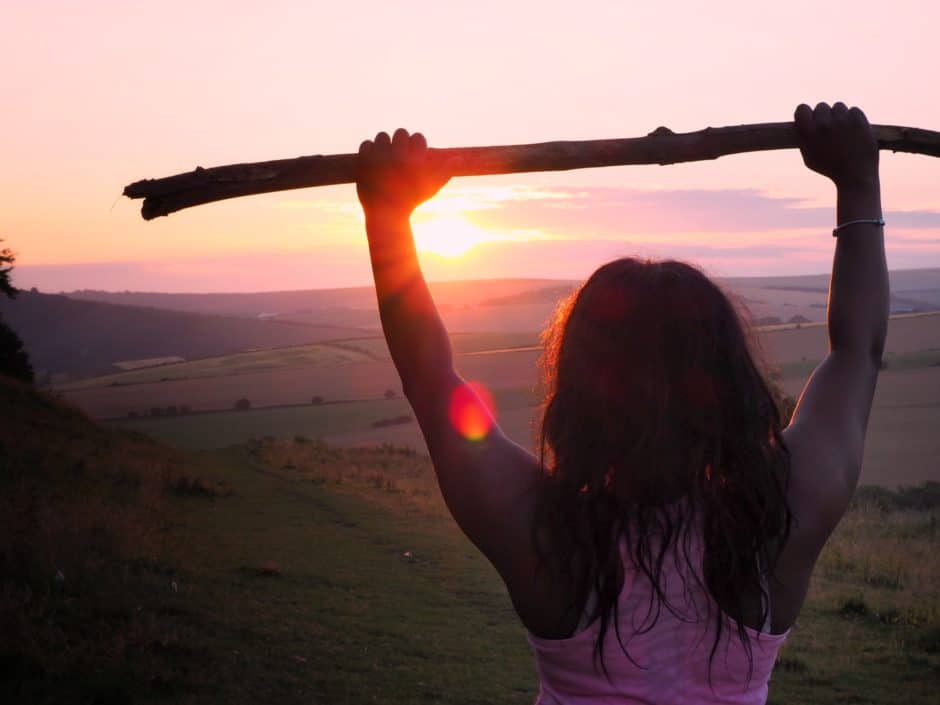 Cycling to work is a very simple challenge I'm setting for myself so I'm keeping the reward fairly basic.
For every time I cycle to work and back (that's 2 activities), I will reward myself by transferring $2.32 ($1.16 multipled by 2) into my Discretionary Fund. My Discretionary Fund is a savings bucket that I use to spend on things that are not considered a necessity. Like that relaxing weekend vacation in Bali or the spanking new Apple iPhone.
Well, you get the point.
I also created a stretch reward for cycling to work more often. For every 10 cycle to work activities (that's 1 work week of cycling to work), I will reward myself with an additional $10 in my Discretionary Fund.
Will gamification work for me?
Here's how my little money saving gamification activity looks like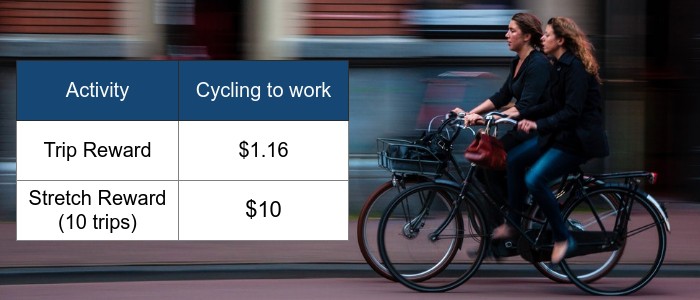 With some reward, I think this will definitely incentivise me to cycle to work more often. I'll keep you updated in a few months' time to see if this works out.
I'd love to hear your thoughts on this. Please share your thoughts in the comment section below.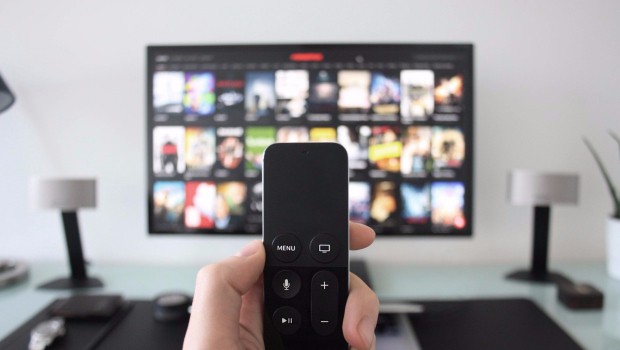 This is an update on how I saved money on my Hulu subscriptions this year. Its slightly different from the Hulu savings tip I posted in a few years ago and in this post, I will also cover on VPN subscriptions as well.
In 2014, I blogged about how I saved money by purchasing disconted Hulu gift cards on eBay to pay for my Hulu subscription. That's one way to get around paying for monthly Hulu subscriptions because I don't have a US credit card. That ship has already sailed and if you do a search on eBay, the Hulu gift card deals aren't that great and there are hardly any discounts.
That's where Hulu shared accounts enter the scene
I found this guy (or girl) on Carousell selling Hulu shared accounts who is selling Hulu shared acccounts. Essentially, it just means that someone in US paid for a Hulu subscription and is trying to make some money back to offset the subscription fees by sharing his/her Hulu account. The only condition of the deal was that I cannot make any changes to the account or create my own Hulu profile (which isn't a big deal to me).
The price is rock-bottom cheap because it's only $10 for lifetime use. Now, I'm very wary of lifetime subscriptions because they only last as long as the account is not terminated. In this case, the Carousell seller guaranteed at least 6 months of Hulu subscription usage or they will give me another shared account to use.
Which is not a bad deal because I take it that I'm paying $10 for 6 months of Hulu subscription.
I decided to share this on my blog because I'm already using my shared account for about 4 months now and everything is still working smoothly. I also paid for a Crunchyroll shared account to catch up on the latest animes. For my crunchyroll shared account, I've only had a problem with the account once but the Carousell seller was quick to give me another shared account to use within the same day.
Let's talk about VPN subscriptions
To watch shows on Hulu, we need to make Hulu think that we are logging in to their platform in US. One of the ways to do this is to use a Virtual Private Network (VPN) which allows us to connect to Hulu through a US-based network to 'pretend' that we are accessing Hulu in US.
For the working adults, they should not be new to VPN because many companies have VPN software that allows their employees to have a secured connection to their file and email servers when they are using public wifi networks.
We all know that VPN can be quite cumbersome and in most cases, result in a slow Internet connection.
For me, I only watch shows on Hulu using my Apple TV or iPad at home. If you're like me, there's another option that you can consider. Smart DNS.
What's Smart DNS?
Smart DNS is a sophisticated technology which allows Internet users all over the world to unblock Geo-restricted (or Geo-Blocked) websites like Netflix, Hulu, WWE Newtork, BeInSports.net, BBC and many more popular websites which contain regional-restricted content by re-routing traffic required for determining your geographical location.
Sounds complicated but essentially, Smart DNS only requires you to change your DNS setting to the designated IP address provided by your Smart DNS provider.
The Smart DNS provider that I use at home is GetFlix.
Based in Australia, GetFlix is a subsidiary of Global Stealth Inc. They have servers that will get you 18 different Netflix regions, which is more than adequate. In terms of privacy policy, they say that they will not sell, trade, or rent any personal information at any time. That said, they might use non-personal data for marketing, or to share with their "business partners, trusted affiliates and advertisers." Although this is a nice way to say they do keep some logs, I have no reason to think they will maliciously use my personal information.
GetFlix offers a rather cheap subscription of 4.95 USD per month and a heavy discount of up to 54% off if I sign up for 24 months for 54.90 USD.
While this is a pretty sweet deal, I'm always on the lookout for even sweeter deals.
I found that StackSocial is offering a lifetime GetFlix subscription for a crazy low price of 35 USD.
GetFlix is running a lifetime deal on StackSocial for a limited time only!
Get Lifetime Subscription to GetFlix
Access popular global streaming services from anywhere around the world
Access over 50 VPN nodes
Enjoy a fast & reliable solution for watching TV, listening to online radio & more
Benefit from easy-to-use Smart DNS technology
Get a free, optional VPN & SmartVPN account to encrypt all your traffic with 256Bit SSL encryption
Use w/ all of your favorite devices
Utilize the services without needing to install any software
Access Netflix on any device: computers, mobile devices, media players, gaming consoles, smart TVs
Please note: Getflix doesn't replace the need for a subscription streaming service
Cheapest subscription ever!
This year, I'm paying less than $50 to access my favourite TV shows on Hulu. I think this is the best deal possible (at least in 2017) and I'm enjoying huge savings without being tied to any contracts.
If you have any other money saving tips, please share them with me in the comments section below.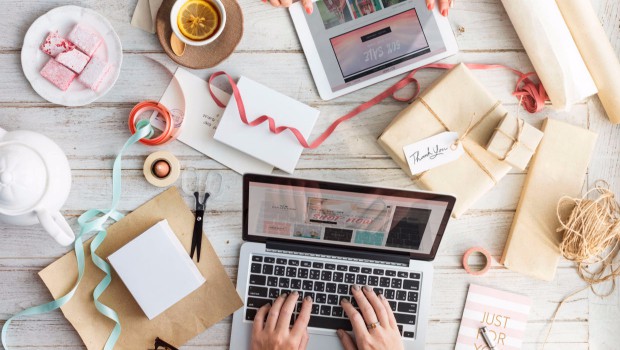 In the last 2 years, businesses have been transitioning their products and services from a 'pay once and use forever' business model into a subscription-based business model.
For me, I'm using subscription-based services for almost everything in my daily life.
Here's a some of the subscriptions I'm paying on each month:
Microsoft Office 365
Netflix
Hulu
Spotify Premium
SingTel fibre and mobile
Personal insurance
Mortgage loan
All of them are paid automatically with my credit card, which is great because I don't want to spend time making regular payments all the time.
The downside of this is that I tend to lose track of all the subscriptions that I've signed up for and ended up paying for subscriptions that I don't really use. Like Netflix that I signed up to watch Marvel's Defenders, and ended up paying for a few more months after I finished watching the show, just because I didn't keep track of my subscriptions.
Then I discovered TrackMySubs, a tool that lets users track all their subscriptions.
TrackMySub is running a lifetime deal on AppSumo for a limited time only!
Get Lifetime Access to TrackMySubs' Entrepreneur Unlimited Plan
Track Unlimited subscriptions
Set Unlimited alerts per subscription
Send alerts to an Unlimited number of different people
Manage Unlimited payment types
Organize with Unlimited folders
60-day money back guarantee. No matter the reason.
Forgetting about a subscription sucks because you're paying money for something you're not using. (And maybe you would be using it if you remembered you were subscribed to it in the first place!)
Here's how my account is set up to monitor all my subscriptions.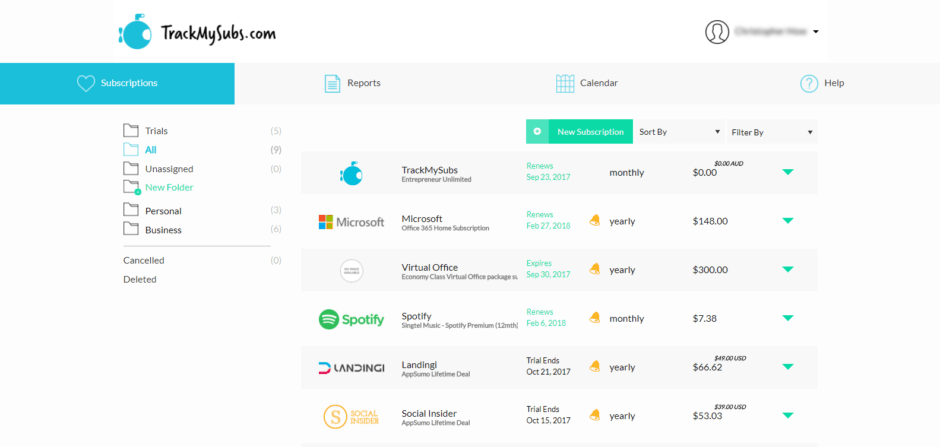 TrackMySubs employs a powerful automated alert system that makes sure you never forget another subscription. I was pleased to know that you can set multiple alerts at custom times and set reminders for team members (or as I like to call them, family members).
You can also add notes to each alert so that you and your family members understand what it is you're paying for and anything else you might need to know.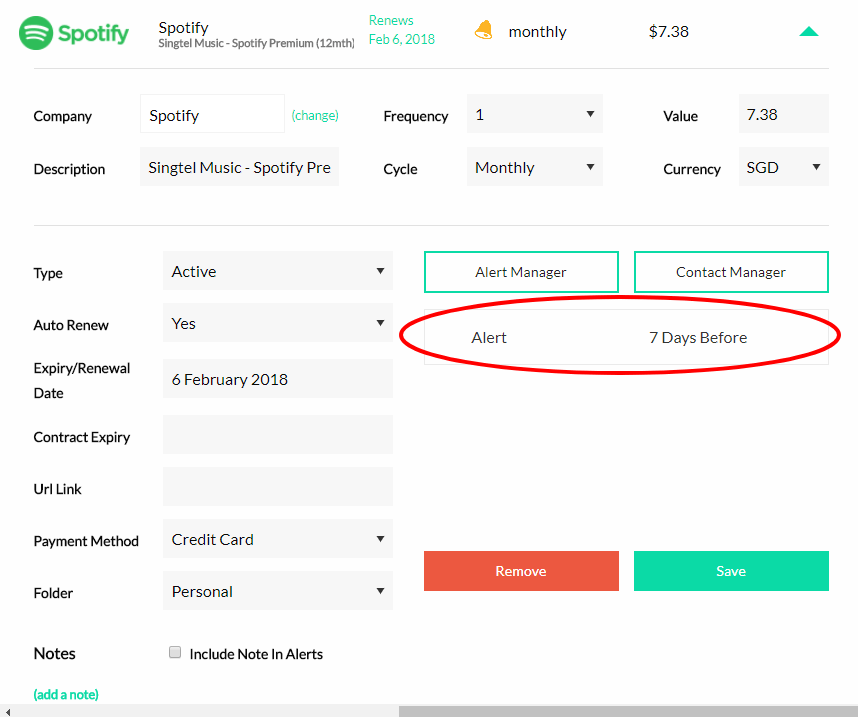 To use a monthly subscription to track monthly subscriptions may sound oxymoron and it's hard for me to pull the trigger on getting it.
However, TrackMySubs is running a special lifetime offer on AppSumo where you can pay a small price of $15 for lifetime access to their Entrepreneur Unlimited Plan (usually costs $96 per year). I've pulled the trigger and have already bought this deal so I'm sharing it with you today.
There's also nothing to lose with AppSumo's 60-day money back guarantee because you can always request for a refund if you don't like it. No questions asked.
Keep track of all your subscriptions today!
Get TrackMySub's lifetime deal on AppSumo today!
Get Lifetime Access to TrackMySubs' Entrepreneur Unlimited Plan
Track Unlimited subscriptions
Set Unlimited alerts per subscription
Send alerts to an Unlimited number of different people
Manage Unlimited payment types
Organize with Unlimited folders
60-day money back guarantee. No matter the reason.