I didn't get a response from Mrs Josephine Teo, our Minister of Manpower. But you know who contacted me? The friendly folks from the CPF Board. I had a 1-hour long call with them to share my feedbacks and here's what we have discussed.
In this article, I'll attempt to be specific about things that are different for CPF members under CPF Life and those who are under the Retirement Sum Scheme (RSS).
What information does CPF Board need before they can start making payouts?
CPF members are required to provide their banking details when they would like to start receiving their payouts for both RSS and CPF Life. They can do this anytime between 65-70 (because doing nothing means you start your payout at 70) to start receiving payouts. For example, if you wish to start receiving payout 3 months after you reach age 67, you can do so.
For CPF members under CPF Life, CPF members are required to select a CPF Life plan (Standard, Basic and Escalating), provide their banking details when they would like to start receiving their payouts. They only have to choose a plan when they decide to start their payout.
What's the easiest way to get this done?
In my conversation with the folks from the CPF Board, I found that the easiest way to provide all the necessary information to CPF Board is through the CPF website.
PS: It's also on the right side of the letter in the recent CPF fiasco but everyone got caught up with the body of the letter.
After logging in to my CPF account, I can find the everything related to my CPF Life plan in the "My Requests" section.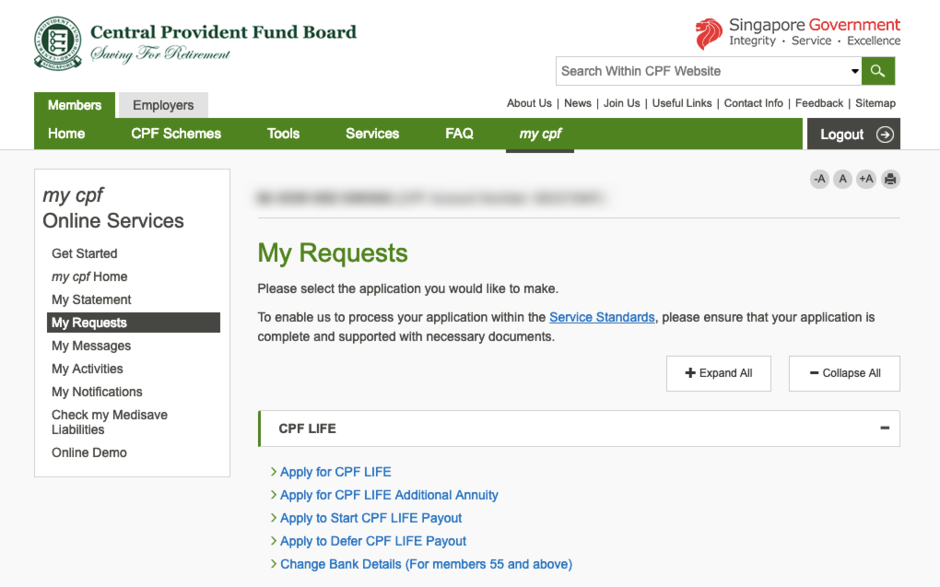 As a tech-savvy individual, I'll definitely get mine done online when the time comes. But for the non-savvy folks, they can consider using the CPF Retirement Planning Service (CRPS) offered by the CPF Board to get a one-on-one session better understand their options.
I feel that for those who aren't up to date with the latest CPF changes (and there are so many of them), it's always good to have an unbiased expert from the CPF Board to list out the options available for them. It can be very time-consuming and I applaud the CPF Board for offering this service.
We agreed on the need for better communication
What everyone agreed in the call, was that the current letter to CPF members explaining what they need to do to start receiving their payouts needs to be reviewed. My opinion is that we should just start from a blank page.
I would have preferred something that's clear and concise with visuals. Maybe a step by step guide or flow chart could help explain things better.
In fact, I would even reconsider the method of communication. Would a SMS or email with links to the CPF website with more details be a better option instead?
What CPF Board can do to create a better experience?
Lastly, here are 2 suggestions I've made to the folks from the CPF Board.
Use data to help the public understand decisions made about CPF policies
I'm glad that CPF has sufficient data and insights to help policymakers make decisions. In a recent article, it was revealed that almost three-quarters of those getting monthly payouts from CPF Life or Retirement Sum Scheme receive less than $500 a month. Ouch!
About 6 in 10 active members who turned 55 in 2017 had, at least the basic retirement sum of $83,000 in their Retirement Accounts and that will give them a monthly payout of between $700 and $750 for life.
Let's look at the recent CPF letter saga. If our Minister for Manpower started the conversation with insights derived from the data before explaining why the CPF payout process is what it is today, it would have been easier to help the general public understand why the process is done this way.
Create a frictionless CPF payout process to provide a great experience
I asked myself, what would I expect from the CPF Board when I'm 65?
I would want to be able to start receiving my CPF payout in a frictionless process once I reach 65. While the existing process allows everything to be done through the CPF website, I still question why I would need to take any action to indicate the age I want my CPF Life payout to start at all.
If I look at the payment process itself, CPF Board has already implemented making payouts using PayNow and they already have my existing mobile number. They can easily find out if I have linked my mobile number with a bank account for to transact using PayNow.
As I am under the CPF Life scheme, I need to indicate the CPF Life plan I want to enroll in. I intend to do this once I reach 65 and at this point, I'm planning to take up a CPF Life Standard Plan with Full Retirement Sum, with payout to commence at 65.
While the existing process does not take up too much time to complete, I hope CPF Board can make use of design thinking to examine what its members really want and make bold changes to make the entire CPF payout process frictionless and automatic.