New Updates!
It's been 3 years since I wrote about saving money on Hulu subscriptions and I've found a better hack to
save even more money
on Hulu subscriptions!
Find out more
One of the little indulgences I embrace is watching television. Unfortunately, the local free-to-air channels are often creating crappy shows, or broadcasting the good ones way too late. The paid channels are so heavily monopolised that it makes no sense paying for them. Not to mention the fact that they can change the pricing terms whenever they want.
This year, I have made the switch to a Hulu Plus subscription for USD$7.99 per month and never looked back ever since. I get to watch all the latest shows I want, on demand and on any platform of my choice. It's perfect!
In the past few days, I found a way to pay a lower subscription price for Hulu Plus and I want to share it with you.
In one of the Internet forums that I participate in, I saw someone posted a message saying that it's possible to buy cheap Hulu gift cards on Ebay. So i did a check and, lo and behold, I found a number of Hulu Plus gift cards listed for auction on Ebay.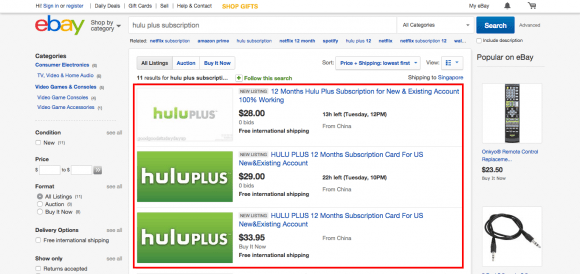 At the time of my search, the cheapest Hulu Plus 12 months gift card was listed at USD$29 on auction and after checking with the seller to confirm that the gift card would work for existing Hulu Plus users, I made the bid. Given that there are quite a few listings, there was no one competing with my bid. Perfect!
Once I won the auction and made payment via Paypal, the seller promptly sent me the codes on the gift card (you didn't think the seller was really going to mail me a gift card right?). I gave it a try and it works! I went ahead and cancelled my current Hulu Plus subscription so that the 12 months subscription from the gift card can take effect next month.
At USD$29, I have effectively reduced my monthly subscription of USD$7.99 to USD$2.42 for the next 12 months. Lovely!
If you are a Hulu Plus subscriber like me, do a search on Ebay and you may find a cheap gift card listing just like me.