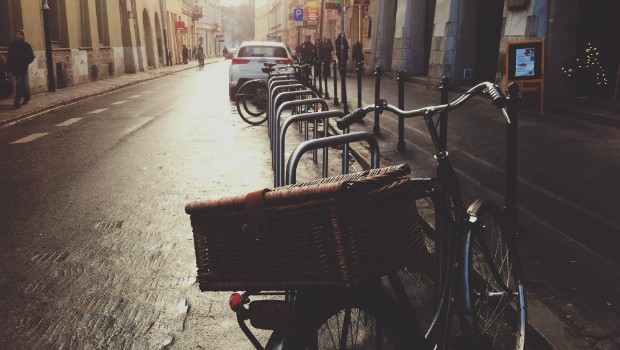 In late December, my employer finished shifting our office from Suntec City to a new office building near Kallang. That meant my journey on the MRT becomes longer and rides will be more expensive in order to get to my new office. I wasn't too happy about that so I decided to find out if there is other alternatives for a shorter or cost-effective commute.
After checking Google Maps, I found that the new office is located pretty close to the Kallang Park Connector Network (PCN). Using the Kallang PCN, it seems that apart from a few road crossings and overhead bridges, it is possible to commute to work on my bicycle.
As I have done a bicycle tour overseas a few years ago, I dug up all the equipment that I stored away after the trip and picked the ones that I needed.
Here's a list of equipment that I needed for my bicycle commute:
A waterproof pannier bag that stores my work clothes, shoes and toiletries (fortunately my office has shower facilities)
A carry system accessory that converts my pannier bag into a backpack so that I can carry it into the office
Eagle Creek Pack-It folder which allows me to fold my work clothes neatly for storage with little crease
North Face packable rain jacket in case of rain
Cycling helmet
Front and rear lights on my bicycle
Not exactly a big list because I try to keep everything simple. One can always deck out the bicycle with more gadgets to make the journey enjoyable. In my case, I installed a mobile phone holder on my bicycle's handlebar so that I can use my mobile phone for navigation and to play music with the Spotify app.
Here's how everything looks like on my bicycle. I chose to use my Dahon foldable bicycle so that if I get a puncture tire or encounter a heavy downpour, I can always hail a taxi to continue the rest of the journey with everything in the boot.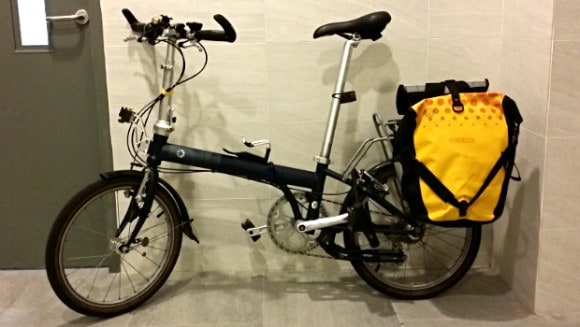 I did a trial ride to my workplace on a weekend and it took around 30 minutes to cycle from my home to the office using the Kallang PCN. The journey on the train takes roughly the same amount of time and costs me $1.33 per trip. That works out to $53.20 per month in savings. While it's not a big saving, I enjoy the health benefits that comes with each ride. I also feel more refreshed if I exercise before starting my workday.
My plan is to cycle to work every day unless I have dinner appointments after work. Let's hope that I can maintain this habit. Fingers crossed!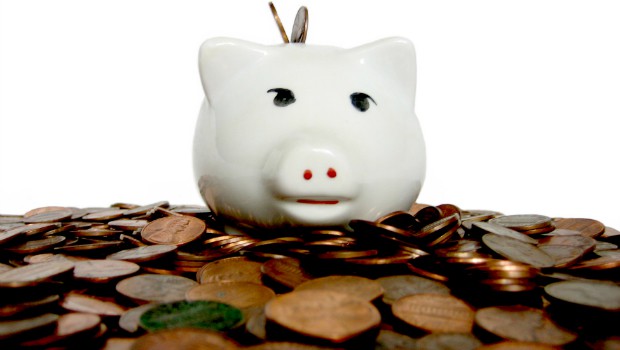 New Updates!
It's been 3 years since I wrote about saving money on Hulu subscriptions and I've found a better hack to
save even more money
on Hulu subscriptions!
Find out more
One of the little indulgences I embrace is watching television. Unfortunately, the local free-to-air channels are often creating crappy shows, or broadcasting the good ones way too late. The paid channels are so heavily monopolised that it makes no sense paying for them. Not to mention the fact that they can change the pricing terms whenever they want.
This year, I have made the switch to a Hulu Plus subscription for USD$7.99 per month and never looked back ever since. I get to watch all the latest shows I want, on demand and on any platform of my choice. It's perfect!
In the past few days, I found a way to pay a lower subscription price for Hulu Plus and I want to share it with you.
In one of the Internet forums that I participate in, I saw someone posted a message saying that it's possible to buy cheap Hulu gift cards on Ebay. So i did a check and, lo and behold, I found a number of Hulu Plus gift cards listed for auction on Ebay.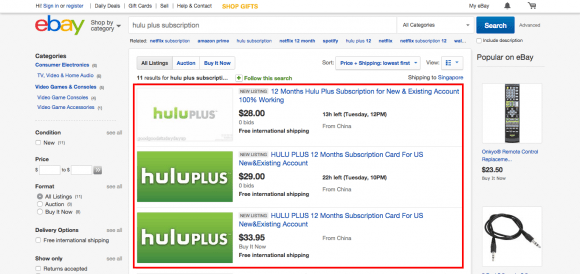 At the time of my search, the cheapest Hulu Plus 12 months gift card was listed at USD$29 on auction and after checking with the seller to confirm that the gift card would work for existing Hulu Plus users, I made the bid. Given that there are quite a few listings, there was no one competing with my bid. Perfect!
Once I won the auction and made payment via Paypal, the seller promptly sent me the codes on the gift card (you didn't think the seller was really going to mail me a gift card right?). I gave it a try and it works! I went ahead and cancelled my current Hulu Plus subscription so that the 12 months subscription from the gift card can take effect next month.
At USD$29, I have effectively reduced my monthly subscription of USD$7.99 to USD$2.42 for the next 12 months. Lovely!
If you are a Hulu Plus subscriber like me, do a search on Ebay and you may find a cheap gift card listing just like me.